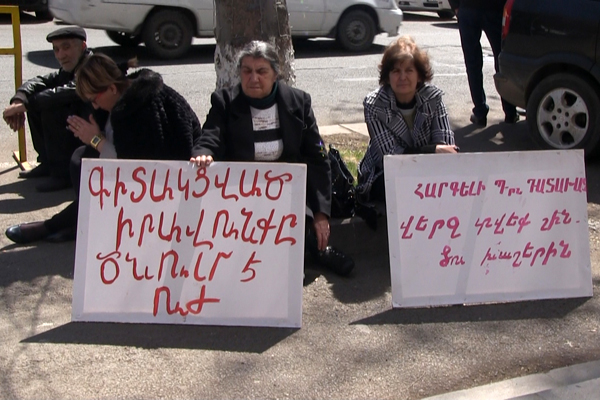 Relatives of the ten Sari Tagh men arrested last summer after clashing with police in their neighborhood have for four days been staging a sit-in protest outside the Armenian General Prosecutor's Office demanding that authorities either specify the charges against the men or otherwise release them.
Lala Bernetsyan, wife of arrestee Edvard Zeytunyan, told an Epress.am reporter on Wednesday that only on the first day of the sit-in did a staffer of the Prosecutor's office come out to meet with the protesters; however, according to Bernetsyan, the man did not offer any specific answers regarding their demands. Since then, she added, no one has paid any attention to them.
The protesters are convinced that the full responsibility for their relatives' arrest lies solely with ruling Republican Party of Armenia (RPA) and are urging the people not to vote for RPA in the April 2 parliamentary elections.
"I can upon all of Armenian citizens and particularly residents of the Sari Tagh neighborhood not to vote for the Republicans; our guys were arrested and continue to remain in prison under their rule. The Republicans have reached the highest degree of lawlessness and have taken it upon themselves to decide who should do what, when and how," Bernetsyan said.
Note, ten Sari Tagh men are facing charges for allegedly committing violence against law enforcement officers during the clashes that occurred in the neighborhood on July 19, the second day of the stand-off in the nearby police headquarters in Yerevan's Erebuni district; if convicted, they could face up to 10 years in prison.