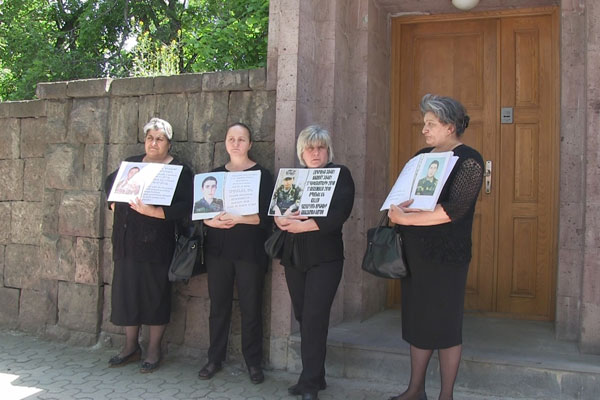 The mothers of several Armenian soldiers who died in the army in peacetime gathered on Tuesday outside the National Assembly building in Yerevan to remind the MPs of the newly formed parliament about their sons' long-neglected cases. When entering the NA building, however, most of the lawmakers kept their eyes averted and did not acknowledge the women, who stood there, all holding portraits of their sons.
"These lawmakers have to understand after all that this issue cannot be ignored. We will not allow them to quietly enjoy their seats; they are obliged to solve the murders of these soldiers. The culprits must be punished in order to finally end the slaughter in the army," Nana Muradyan, mother of Valery Muradyan who died in a Nagorno-Karabakh military unit in 2010,  told our reporter.
Tigran Ohanjanyan's mother Gohar Sargsyan, for her part, stated that from now on, they were going to present their demands solely to opposition lawmakers. "I expect nothing from the Republicans; everything is clear there, they are criminals, traitors and murderers. We'll turn to the oppositionists – Nikol Pashinyan and his [Yelk] bloc, for example. Let's see what they can do about the fact that none of lawmakers' children actually serves in the army. I've been demanding for a year that they show me a child of at least one oligarch or MP who took part in the April [2016] fighting in Karabakh. They have, naturally, failed to.
"Three prosecutors have been replaced over the past 10 years, but the cases into our sons' deaths stand still. We will not stop coming here, and if we do not manage to make sure that our sons' murderers are punished, the five of us will disgrace these authorities in front of the whole world!" Sargsyan said.