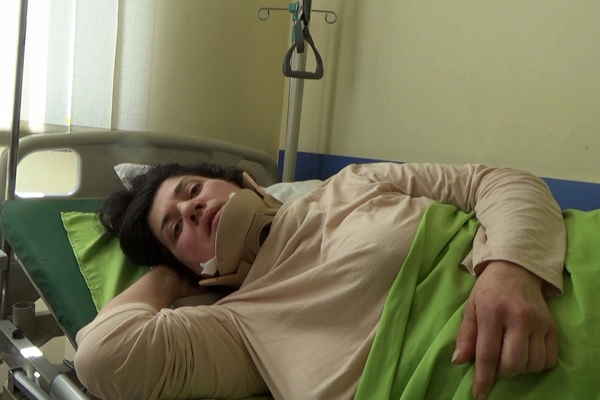 Karmen Abgaryan, a 42-year-old former employee of the Sanitek Armenia waste management company, has been unable to claim benefits from the Paros program of social assistance department of Armenia's Ministry of Labor and Social Issues as she is still officially registered as a Sanitek employee. Abgaryan had voluntarily terminated her employment past June, several months following a car accident while on the job,
The woman who was hit by a car in March 2016 as she tried to cross the street to carry out her street-cleaning. On the day of the accident, according to a past interview with Abgaryan, she was made to stay and clean the roadway on Yerevan's Heratsi street after her shift had ended because mayor Taron Margaryan's motorcade was expected to drive by the area.
Speaking to Epress.am on Thursday, Abgaryan said Sanitek representatives have been refusing to officially terminate her employment for months without any proper justification: "They are simply mad at me for going to the media and are now trying to punish me, I guess."
The woman has yet to fully recover from the injuries she had sustained as a result of the incident: "My left shoulder does not function; my spine aches; I have constant headaches, which do not even let me leave my house."
The woman lives in Charentsavan, a small town located some 38 km north of the capital Yerevan, with her underage son. She has had no income since leaving her job at Sanitek and cannot afford to travel to the capital on a daily basis to meet with her former employers and convince them to finally deregister her. She told us that her daughter was helping her to prepare documents for filing a compensation claim against Sanitek, but now that her daughter has moved to Russia, the case has come to a standstill.
Note, another injured former Sanitek employee, 66-year-old Volodya Achemyan, has gone to court to demand an AMD 123 200 monthly compensation from Sanitek for loss of work capacity.