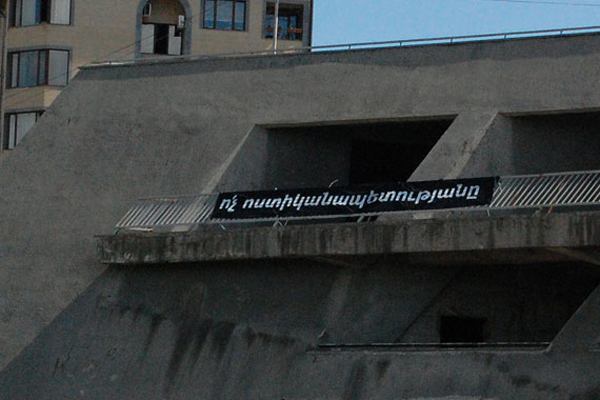 Armenia's Government proposes to amend the country's law on police and let officers use video and photo equipment anytime while performing their duties: when preventing and solving crimes, safeguarding public order, ensuring traffic safety, etc.
The corresponding amendments to the law on police were discussed and voted on Wednesday at the National Assembly. The initiative received 30 votes against by 30 lawmakers from Yelk and Tsarukyan alliances. The fractions of the Republican Party and the ARF-Dashnaktsutyun majorly voted in favor of the amendments.
Deputy Police Chief of Armenia Vardan Yeghiazaryan said when presenting the initiative that the law should specifically define the extent of the involvement of the police in the private sphere; namely, he stressed, police officers will have to verbally warn citizens before using mobile video equipment and place signs in case of installing static cameras in an area. These recordings, Yeghiazaryan added, will have to be made with equipment belonging to the National Police and not by officers' personal devices.
Artak Zeynalyan, an MP from Yelk and a former human rights activist, argued that the amendments will enable the Police to invade the people's right to privacy. "Meanwhile, it can be said that none of the filming done by police officers until now was backed by law. Don't you think that this type of intervention into private life should have been envisaged solely by a law passed either by the Parliament or through a referendum?" Zeynalyan asked.
Deputy Police Chief Yeghiazaryan replied that the law on privacy was not strict enough in the past, and therefore past shooting were not conducted illegally.
"This law would allow you to enter into agreements with the neighbors of any politician or civil activist and surveil their home or office all day. Does any provision of the law rule out the possibility of such actions by the Police?" former journalist, opposition MP Nikol Pashinyan inquired for his part.
"I don't think there is any support for your claim," Yeghiazaryan replied.
Tsarukyan Alliance MP Naira Zohrabyan countered that the fear that the law could be used for surveillance and persecution was rather justified, since "our country is notorious for incidents of political persecution and court verdicts stemming out of political expediency."
Non-partisan lawmaker Edmon Marukyan, a former employee of the Helsinki Citizens Assembly Vanadzor office, stated in turn that "such bills should be discussed in the parliamentary Commission on Human Rights, which, however, was dispersed last year."