Around two dozen students gathered on Friday outside the Yerevan State University library to take part in a "toilet paper collecting charity event." The aim of the action, according to its organizers, was to speak out against the university's numerous problems, and the lack of basic hygiene items there, in particular. The newly-formed initiative, called YSU Restart, had created a Facebook event beforehand, calling on users to support the action by donating toilet paper rolls to the university.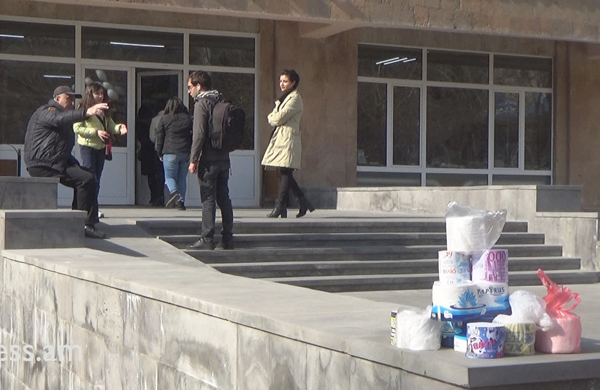 Davit Petrosyan, a founding member of the "There Will Be Deferments" and "For the Development of Science" initiatives, said in conversation with Epress.am that YSU Restart is part of their general students movement.
"The main group, which focuses on army issues, is still in place; nonetheless, we decided to devote one part of it to the problems in the university itself and form the YSU Restart initiative. It also includes students from the Polytechnic University, the Conservatory, and other universities, but the core comprises YSU students. We all know that there are a lot of problems; there's a lot to be unhappy about, starting from basic hygiene issues and ending with the quality of education," Petrosyan said.
When asked whether the YSU Restart initiative was not drawing much needed attention away from the movement fighting for the restoration of the right to military service deferment, Petrosyan replied: "First and foremost, we should all feel responsible for solving the basic problems in our university. Once we've successfully done this, we'll be able to take on much more serious issues. The deferment movement took care of several important matters: it put the deferment issue at the top of the agenda, and opened a discussion on army issue, as well as the role of education and science in general."
After numerous failed attempts, our reporter finally managed to convince the university security guards to let her into the building and see whether the students' complaints regarding the toilets were justified. As it turned out, some of the restrooms did in fact lack toilet paper  and other basic hygiene necessities. The rooms also smelled rather badly, and the few open windows did not do much to alleviate the situation.