Several dozen people on Thursday marched to the office of the Permanent Representation of Nagorno-Karabakh in Yerevan to show solidarity with 19-year-old Asya Khachatryan and condemn the mistreatment she was recently subjected to by Stepanakert police officers.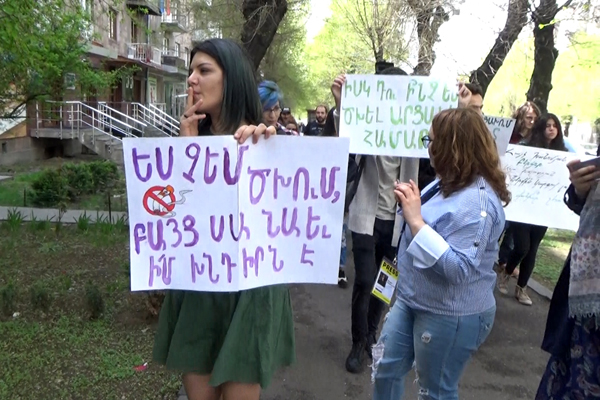 "Asya Khachatryan was subjected to violence and discrimination for the sole reason that she smokes and has blue hair. This incident cannot be left unpunished since it was a gross violation of human rights on the one hand and an attempt to create an artificial division between the people in Armenia and Artsakh on the other. We also want to try to emphasize that we have as much right to Artsakh as the Armenians living there, therefore we demand that all the perpetrators are immediately punished," the invitation to the event said.
The marchers held up poster that read, "Women Against the Regime," "Blue Hair Against Militarization," "Blue Hair Against Police," "No to a Police-State," "Sewage Goes to the Police of Karabakh."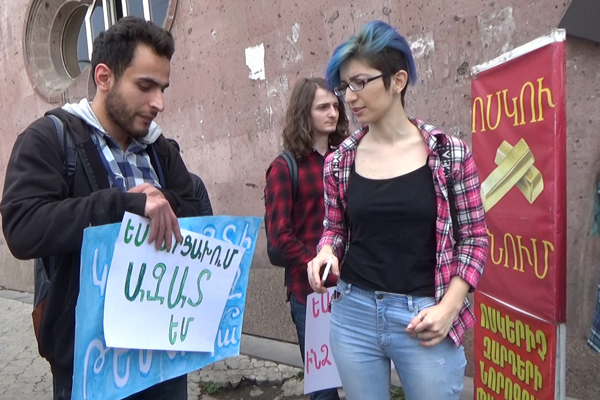 No representative of the NKR mission in Armenia came out to the demonstrators; a sole hand holding a smartphone appeared in the window of the building periodically to supposedly film the action. Several individuals in civilian clothes also stood by the gates of the building, filming the protesters. A few minutes after the action ended, they removed the posters that the demonstrators had attached to the gates.