Follow the events as they develop in our live thread.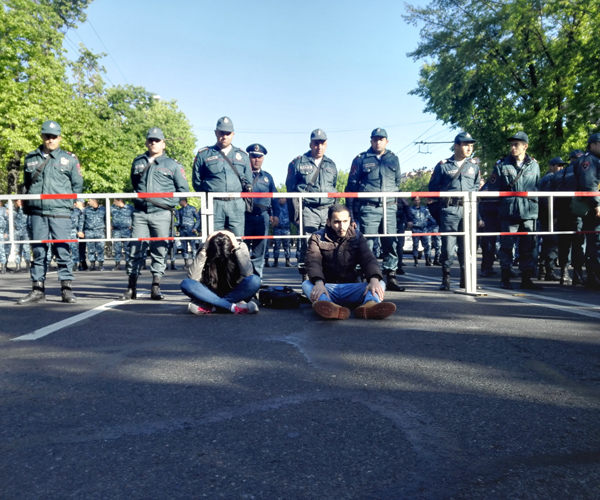 The fourth day of the street protests in Yerevan kicked off early on Monday with a series of non-violent civic disobedience acts around the Armenian capital. One of the protest leaders, prominent oppositionist Nikol Pashinyan, blocked the way of a civilian bus on the central Baghramyan Avenue at 8am straight, apologizing to the passengers for the possible inconvenience and saying that he was carrying out a political action.
On Friday, April 13, several opposition initiatives – "Reject Serzh",  "My Step" and "Front for Armenian State" – united their forces and rallied a few thousand demonstrators on Yerevan's Freedom Square to prevent long term Armenian leader Serzh Sargsyan from becoming the country's next Prime Minister and prolonging his reign for another 5 years. The rally grew into a march and ended  at the France Square in downtown Yerevan where four main streets intersect. The demonstrators subsequently broke into several groups and began around-the-clock sit-in at the square, blocking each of the streets and paralyzing traffic in the city center.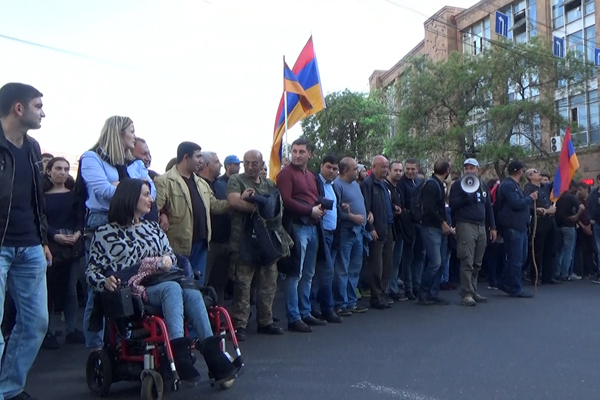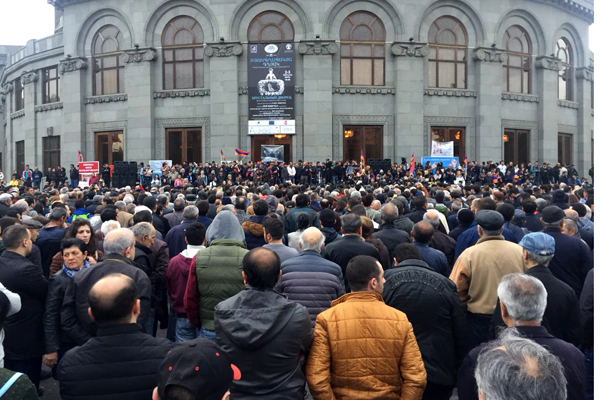 The ruling Republican Party's announcement on April 12 to nominate the current president Sargsyan for the Prime Minister's post in the new parliamentary system of government did not come as a surprise. Sargsyan's intention to perpetuate his rule in Armenia had been largely perceived as the kernel  of the constitutional reforms in 2015 that transitioned the country from a semi-presidential system of government to a parliamentary one.
The leaders of the protest movement have been urging all opposition forces to forget former divergences and unite efforts for the same cause. The final goal, according to them, is to assemble a critical number of demonstrators on April 17 outside and around the National Assembly building on Baghramyan Avenue, where Sargsyan is expected to be officially elected as Prime Minister by the parliament.
"On behalf of the people here on the streets and on behalf of myself I call upon all the opposition forces to stand with us in solidarity.  Those who have ever attempted to fight Serzh Sargsyan and his illegitimate regime, join us," opposition Yelk bloc MP Nikol Pashinyan has announced.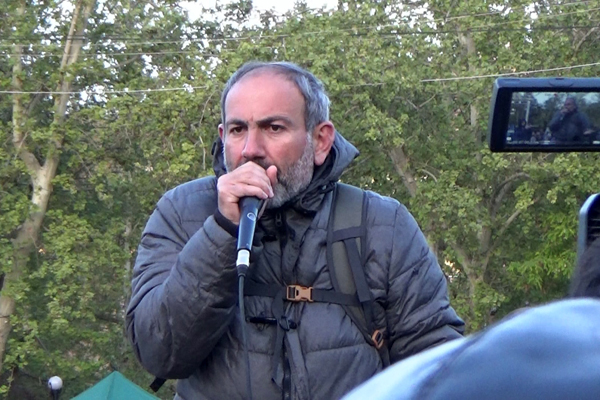 The plan for the non-violent disobedience acts was announced by Pashinyan on Sunday evening. He urged all Yerevan residents to go out on the streets at 8:30 and kickstart the day by occupying and blocking the city's roads, bridges, metro stations and public buildings. The demonstrators' final destination, he said, should be the National Assembly building: the goal is to occupy the area around the building in order to topple the Tuesday NA session.
Follow the development of the Monday events in our live thread.