Former employees of "Continent Text" today, after a while, again gathered outside the building of the Government of the Republic of Armenia demanding back the wages they are owed.
They hope that the new Government that is being formed will help them to get back their 8 months' unpaid wages. 140 former employees expect their salaries, that constitute 33 million AMD in total for all, to be finally paid.
"Continent Text" used to operate under the Police of the Republic of Armenia (formerly known as the Ministry of Internal Affairs (later, the Police of the Republic of Armenia) and from 1995 supplied uniforms to the servicemen of the law enforcement bodies. The company got liquidated in 2012, the building of the company got sold and the salaries for the last 8 months were never payed to the employees. In the words of the employees, the multi-apartment building that is now built on the territory of the company belongs to the former RA Police Chief Vladimir Gasparyan.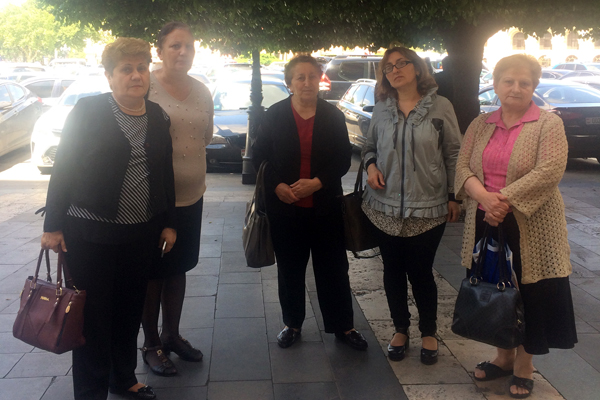 "We officially addressed this issue to the former Prime Minster Karen Karapetyan for 5 times. Each time the answer was that they were working on it. We came today to see whether there is any help we can expect from this new Government. By no means we are going to "donate" them the money earned by our own sweat".
Employees believe for Vladimir Gasparyan paying such amount is not a big deal and this will "cost him as much as his one visit to a restaurant".
The Armenian Public Television that for years has never been covering issues raised by different groups of the society, arrived on the scene to cover today's protest.