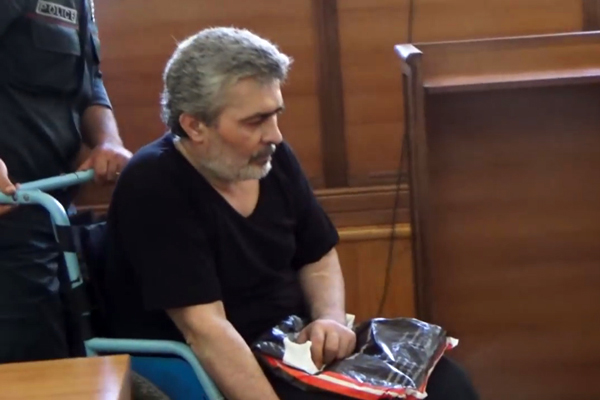 Hrachya Gevorgyan, an Armavir jail prisoner with multiple chronic conditions who died in prison in April after failing to recover from a 57-day hunger strike he had ended the previous month, was being subjected to physical violence and torture prior to his death, as evidenced by the multiple bruises on his body, Arayik Papikyan, a lawyer with the Armenian Helsinki Association, said in an interview with Epress.am on Friday, adding that the forensic medical examination had, however, failed to record the aforementioned traces of violence. Representatives of the human rights organization, according to Papikyan, learned about the alleged torture after examining the photos of Gevorgyan's body they had taken before his funeral.
"His body had obvious signs of torture – his limbs, fingers were broken; there were multiple bruises on his face. The fact of torture couldn't be more glaring. The forensic examination, however, did not record any of this," Papikyan said.
He added that the torture investigation has nearly been completed, and the investigator has decided not to prosecute anyone for the alleged crime and to close the case.
"This decision indicates that the relevant authorities did everything to ensure that the investigation into Hrachya Gevorgyan's death is terminated and that no one is held liable for his possible torture. To be completely honest, we had knows this would happen all along. As a rule, the Armenian law-enforcement agencies do not put much effort into revealing such incidents if the authorities themselves have no particular interest in finding a culprit," the lawyer said.
Recall, according to the indictment, Hrachya Gevorgyan and Garik Harutyunyan held hostage Hrachya Gevorgyan's wife, Naira Harutyunyan, and her son, a minor, asking for ransom from Naira's father. After they received the money, they released Naira and her son.
Gevorgyan, however, consistently denied the accusations in the course of the 4-year trial process; claimed that Harutyunyan had "organized a conspiracy" against him. He also repeatedly stated that the former Chief of the Police Criminal Investigation Unit Artur Gevorgyan for three months attempted to convince him not to protest against the charges. Then, as stated by Gevorgyan, the former police chief decided to make threats to ensure that the accused ceased his fight against the "illegality of the criminal case." However, the RA Special Investigation Service did not find Gevorgyan's claims sufficient to open a criminal case against the police official.