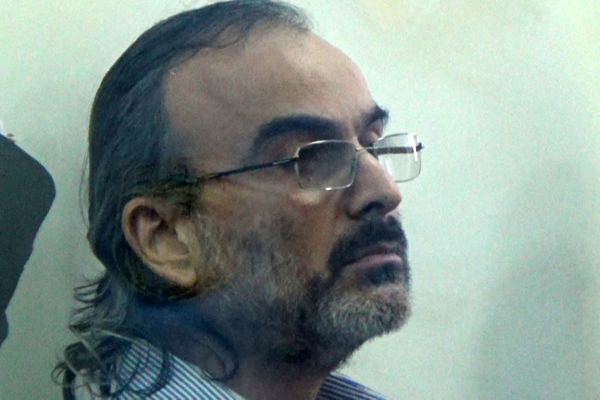 The trial over opposition Founding Parliament group leader and Karabakh War veteran Zhirayr Sefilyan is a classic case of political persecution, his lawyer, Arayik Papikyan, stated at a press conference in Yerevan on Thursday.
"The charges against Sefilyan are based on his public statements and opinions voiced at press conferences, all of which were made in 2014. A year later – in 2015 – Sefilyan is facing charges because 'your 2014 statements contained elements of crime that showed you wanted to seize power or provoke mass riots.' Dear National Security Service, Investigative Committee and Special Investigation Service, if Sefilyan made these public calls in May or November 2014, they why did you suddenly decide to press charges only a year later. This is undoubtedly political reprisal," Papikyan insisted.
Recall, according to the prosecution, Sefilyan, who was arrested on June 20 2016, had allegedly formed an armed group, plotting to organize an armed takeover of the capital's important communication buildings and structures, including Yerevan's television tower. The prosecutor has demanded an 11-year prison sentence for the oppositionist.
Human rights defender Avetik Ishkhanyan, in turn, stated that the trials over oppositionists in Armenia "are reminiscent of the Stalinist repressions of 1937."
"The case with Gevorg Safaryan and putting up a Christmas tree [on Yerevan's Freedom Square]. There were 4 other people there at the time, but only Safaryan was detained. Andreas Ghukasyan's case, when he was detained and the other people were released. Everything indicates that the country's president has a personal vendetta against these people because they made the toughest and the most condemning statements against him over the years. It's personal revenge, plain and simple – charges cooked up from nothing, just like in 1937. This is our political reality," Ishkhanyan said. "There was an order to isolate Sefilyan. They complied with the order, but did rather a sloppy job," he added.
Head of the Helsinki Citizens' Assembly Vanadzor Office Artur Sakunts expressed the opinion that the term "selective justice" should from now on be replaced with the term "target justice."
"The National Security Service is a structure that persecutes political opponents. The Police and all the rest are simply tools. Reducing the National Security Service's entire objective to an operative response to the actions of political opponents is a manifestation of typical tyrannical behavior," Sakunts stated.