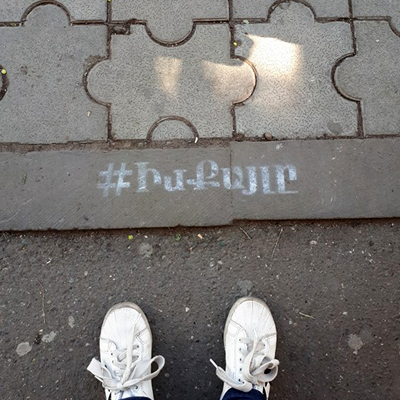 Two members of the opposition Civil Contract party, Varsenik Uzumyan and Babken Grigoryan, were detained on Monday evening for writing on the ground in central Yerevan.
"Babken and I were writing '#MyStep' on the ground not far from the Yeritasardakan metro station when police officers came up to us and said we had no right to do that. We thanked them for the warning and said we would stop and leave immediately," Uzumyan recalled in conversation with Epress.am.
The officers, however, did not allow the young people to leave and told them that they had to go to the police station with them: "We said we would not go anywhere without a summons and they replied that the summons would be sent shortly to our apartments," Uzumyan said. "Two officers grabbed me by my hands and put me in their car. I was wearing a 'MyStep' pin, and one of them commented that a young woman like me should not strive to be associated with [Civil Contract leader] Nikol [Pashinyan]. He went on insisting that Nikol would fail and that I would merely end up having problems at work and at home because of him.
"Upon realizing that it was not working, they began threatening that would come to my workplace and make sure that I lose my job. When they learned I was a student, they began saying that I wouldn't be able to pay my tuition, that I'd be left uneducated and end up as a beggar. I kept silent the entire time and was in constant touch with my lawyer."
The young people were held at the station for about an hour and a half; the law enforcers have filed an administrative case against them for "dirtying the asphalt." According to Uzumyan, their writing have since been erased from the ground by some people in civilian clothes.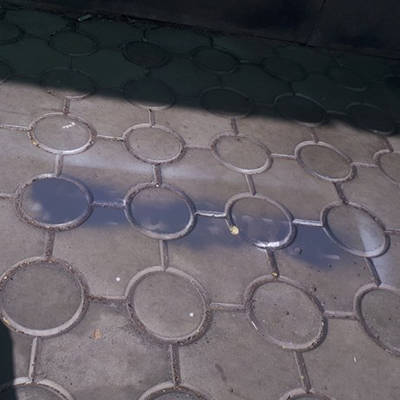 Note, opposition Yelk party member Lena Nazaryan left the same writing on the ground outside the Kentron police station late on Monday in support of the young oppositionists.