Yerevan State University's students of the Faculty of Armenian Philology and History that announced a student strike on November 6 2019, with a demand to revisit the draft amendments to the "Law on Higher Education and Science" and to withdraw the suggestion to make mandatory courses on Armenian Language, Literature and History non-mandatory, have now taken Yerevan's streets together with the Armenian Revolutionary Federation Party (Dashnaks) united around the resignation demand for Arayik Harutyunyan, Minister of Education, Science, Culture and Sports. The protest march started at the Philology Faculty of YSU and ended at the Ministry, where Young Dashnaks are on a sit-in. Among the participants of the march were also activists fighting against the Istanbul Convention on Combating and Preventing Domestic Violence, disrupters of "My Body is Private" book presentation and "HuZanq u Zang" open-air performance.   
In an interview with media, one of the protestors, Gevorg Gyulumyan, a 4th-year student and a correspondent of "Azg" daily newspaper stated that the main demand of the student strike, the march and all future actions was and would be Arayik Harutyunyan's resignation. To the question of a journalist, whether the students would change their demand if the Minister withdrew the proposed changes, the answer was "no."
"Our fight is not only for keeping the Armenian language course. Our culture is in a disastrous condition, our national character is being distorted with the hands of Arayik Harutyunyan, so we will not remain silent," the student-journalist clarified that by a disaster he meant the "Huzanq u Zang" performance and the documentary about weightlifter Mel (Meline) Daluzyan.
Member of the ARF party, Gerasim Vardanyan also addressed the protesters before the march. He emphasized that the protests were not simply against the Minister, it was a movement for protection of national values. During the march, the protesters were chanting "Students, Join!", "Students, Stand up!", "Arayik Harutyunyan, Leave!", "We are against preaching homosexualism" (sic),  "The Minister wants to kill in us everything that is national, to kill our church religion," "We say, there are Armenians living in Armenia, and the culture is Armenian, Arayik, Leave!"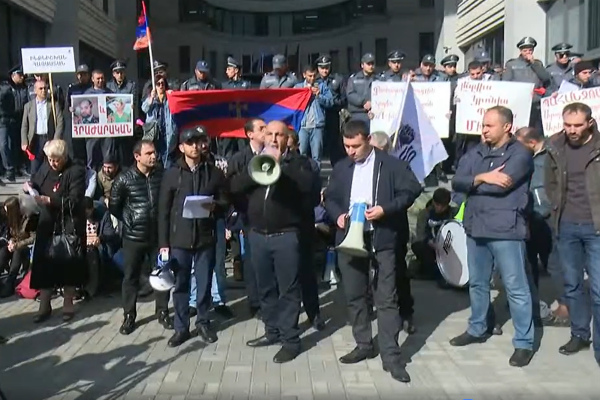 The march ended at the Ministry of Education where it joined the sit-in by Dashnak young party-members who had set-up a few tents there and posters reading: "Don't touch my language, my religion, my dignity!" "Sovereign Armenia", "Resignation!"
Later, Konstantin Ter-Nakalyan, editor of blognews.am and former deputy CEO of Public Radio, Lika Toumanyan, now members of the anti-Pashinyan "aDekvad" union that has recently announced of establishing a political party, joined the protesters.