The fake propaganda threatening people's health security is linked to the fake profiles working for Artur Vanetsyan, former head of the National Security Service.
Taron Saribekyan, a doctor residing in Berlin is whistleblowing that he was offered money to speak against the effectiveness of masks and vaccines for the Armenian public. The offer came from a citizen of Germany who often visits Armenia. "This person also informed me that an office has opened in Armenia where they provide "necessary information" to doctors who have many followers," said Saribekyan. He also clarified that he is not allowed to reveal the dialogue he had with this person as this is against the German law and he already has received a rejection from the person to disclose it. He, however, has the right to provide the dialogue to law enforcement bodies as the correspondence points to potential harm to public health. "After confirmation from the law enforcement bodies, I will gladly disclose both the name of this person and their name," said Saribekyan.
Doctor Saribekyan calls on people to question speeches made by doctors who speak of the ineffectiveness of masks. They might be part of the above-mentioned deal, he says.
"Effectiveness of masks is beyond question, a correctly worn mask firstly prevents spread of discharge from a person who may be infected and asymptomatic, and to some degree it prevents the penetration of the virus through those discharges into the respiratory organs," he says. He also emphasizes that it is through these preventive measures that Germany with 83 mln population has only 7000 active COVID-19 cases at the moment.
The fake news propaganda against the seriousness of coronavirus is voiced by a number of public figures who call on the action of the National Security Service. One of them is Styopa Safaryan, who consistently reveals social media users that wage a propaganda against preventive anti-epidemiological measures. He has already spotted users praising Artur Vanetsyan, former head of the National Security Service of Armenia, now an ardent opposition to Nikol Pashinyan. Many profiles he discloses soon disappear which lead to the suspicion that they are fake. The fake profile below has been waging a war against public health, convention preventing sexual violence against children, the Soros Foundation, vaccines, 5G antennas etc resonating a lot with the ultra-conservative group Kamq led by an activist of Armenian descent from Georgia, Vahagn Chakhalyan. Fake users specifically targeting Health Minister Arsen Torosyan, Education Minister Arayik Harutyunyan, Prime Minister Nikol Pashinyan and repost from yerevantoday.am, lifenews.am, hayeli.am, 168.am, radioaurora.am. Styopa Safaryan emphasizes that these profile users resort both on Russia-made fake news, but also post "Western" doctors who spread similar fake propaganda.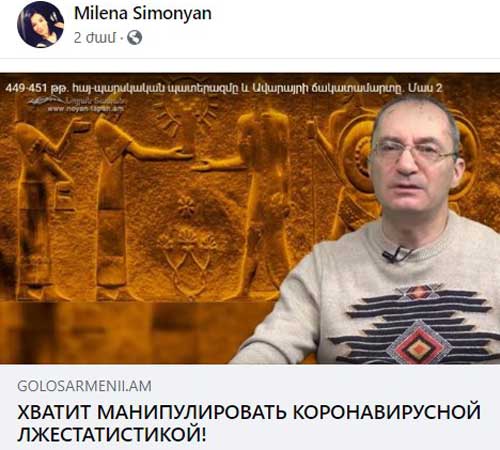 Enough manipulating with coronavirus fake statistics, in Russian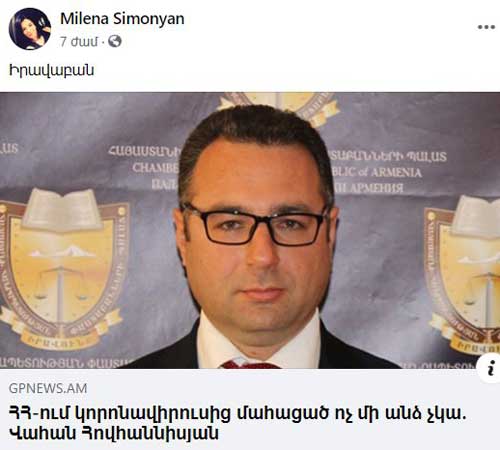 Not a single person has died from coronavirus in Armenia. Lawyer