Antiwar hashtags #müharibəistəmirəm՝  #idon'twantwar and #nowar are used by many Azerbaijani users. 
Dozens of users express themselves against military operations in Azerbaijan. "It's easy to say "I don't want war." But I don't want to die or to kill. I don't want to see children, whose parents have been killed or whose sons were sent to the army and now they will receive their dead bodies. I don't want to be dead by any means. Why do you want to die with them?" 
"Ladies and gentlemen, you're sitting in front of the screens and are screaming "forward!", "let there be war!", but this is in a circumstance that you often don't have water to wash, your children often scratch posters because they don't have food to eat, see what is happening when people are forcibly taken out of their homes to protest. You haven't fought against the Social Protection and Labor Ministry, against the Internal Affairs Ministry. Do you want war now?" writes another user. 
"How long are you going to post "patriotic" posts and flags on your pages? You've turned human lives into toys #müharibəistəmirəm"
Some users in Armenia started using i_don't_want_war_I_want_people_to_live (#ես_չեմ_ուզում_պատերազմ_ես_ուզում_եմ_որ_մարդիկ_չմահանան), which however is not so actively used yet.
Protests have erupted in a several cities of Azerbaijan in relation to the escalation of the war on Armenia-Azerbaijan border. Protests with slogans, such as "Shehids are immortal, Homeland is indivisible", "Karabakh", "Freedom to Karabakh" were held in Baku. On the evening of July 14, the protesters managed to break into the building of the Parliament. They were pushed out by law enforcement bodies by use of batons and tear gas.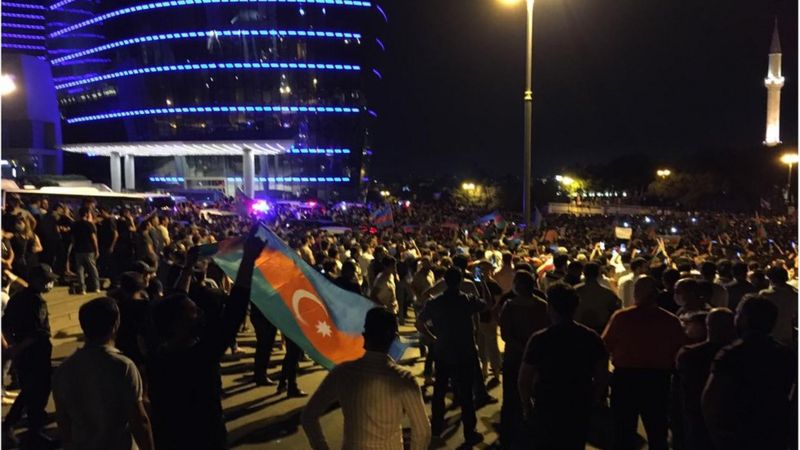 Thousands of youth held flags and marched towards the "Shehids Alley" demanding a war.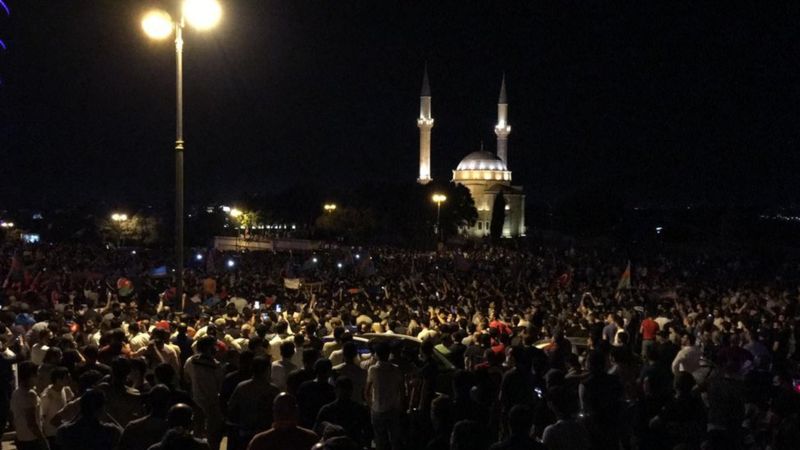 The Azerbaijani authorities used water cannons to disperse the protesters. Nonetheless, the protesters managed to storm the Parliament. 
Massive protest in Baku tonight with protestors wanting Azerbaijan to take action against Armenia after 3 days of clashes at the border #Azerbaijan #Armenia pic.twitter.com/nEQt42xkCm

— CNW (@ConflictsW) July 14, 2020
The situation on the border of Armenia and Azerbaijan in Tavush region escalated on July 12. The two sides blame each other for violating the ceasefire and escalating the war. Since July 13, civilian settlements have been under shelling on both sides. Armenia reports of Chinar, Aygepar and Berd communities, while Azerbaijan reports of Dondar Gushchu, Alibeyli and Aghdam villages being under fire. 
Armenia's Ministry of Defense reports that Major Garush Hambardzumyan, Captian Sos Elbakyan, Junior Sergeants Smbat Gabrielyan and Grisha Matevosyan sustained deadly injuries. Azerbaijan reports of 11 military servicemen's and one civilian's death.